Nina is an International Summer and Winter Mountain Walking Leader (UIAA), alpinist, and sport climbing instructor that graduated from cultural studies. She used to work in the natural and cultural conservation field and later on moved to tourism. First, she guided other travel agencies, while a few years ago she finally set up her own hiking travel agency Edlothia Travel.
»I was always interested in human culture while also enjoyed discovering different natural environments, especially mountain areas. Wherever I go, I am curious what is hidden behind, where will I come out if I continue to go on. So, it is not so easy to stop on the way. This restless spirit takes me from place to place, from country to country, always in search of more remote and not at all touristic areas. «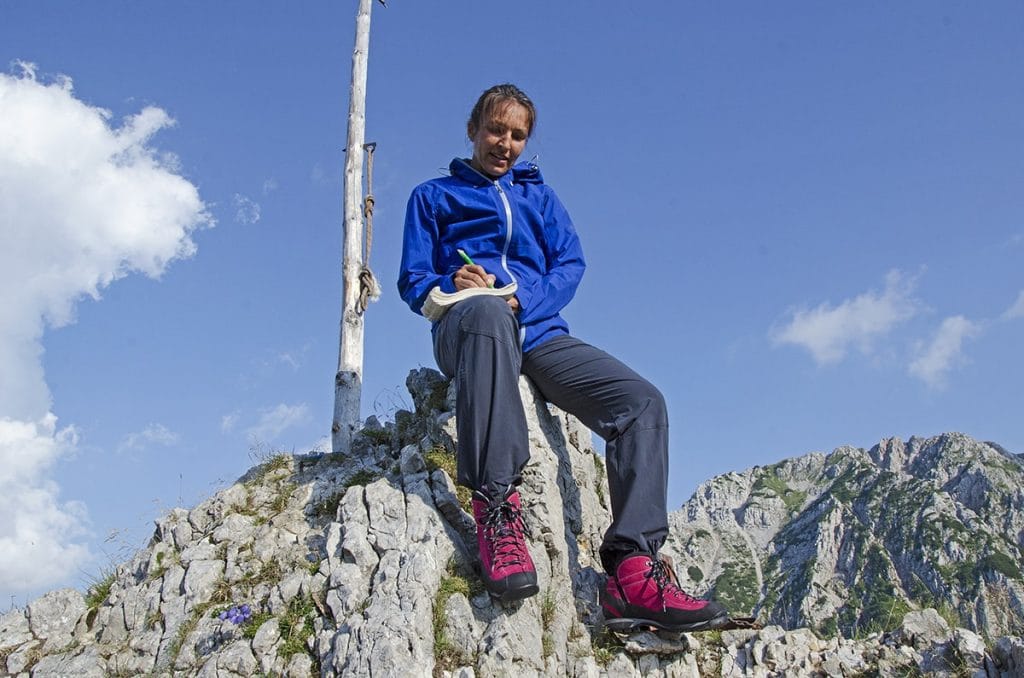 She guides Slovenians and foreigners on one or multiple days trekking and hiking tours around Slovenia and across Europe. While she prefers the Pyrenees and the Alps, she also likes to annually return to the Bulgarian mountains, Corsica, Ligurian coast, and Georgia. Mountains and the coastal areas – rocks and the sea – are two ecosystems where she likes to explore the most, discover new paths, enjoy great views, hang around small historical villages, meet local people, and get to know their culture and styles of living. She is fascinated by nature and human culture, which helps her create unforgettable tours.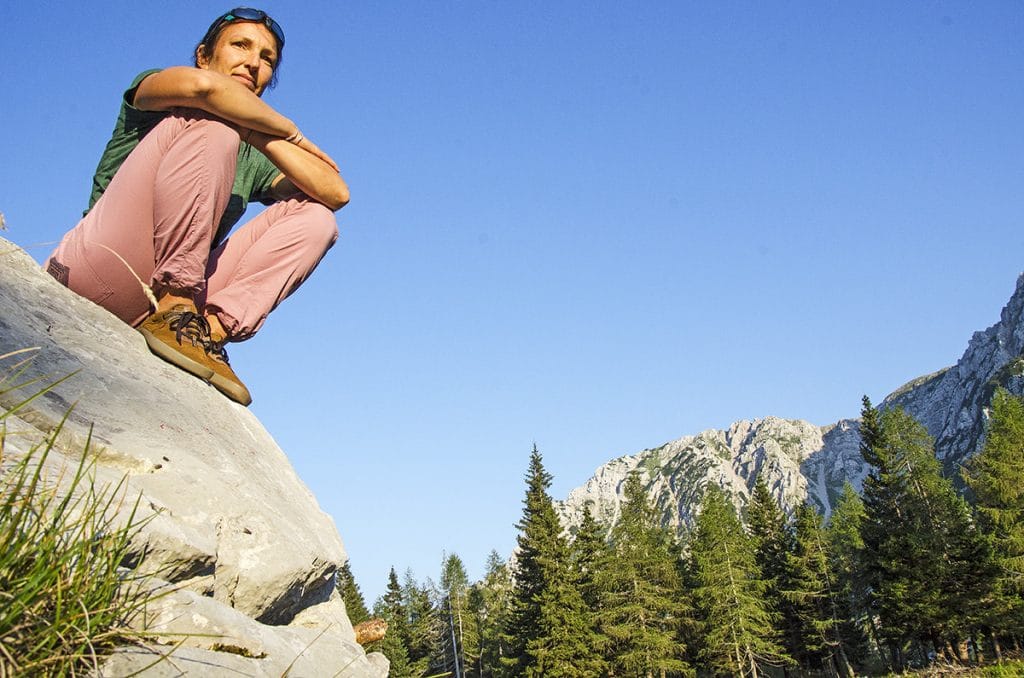 Wherever she is, and whatever she finds interesting, her first thought is to share this beauty with others. Her travelers have the opportunity to enjoy all the ideas and walks she came across. She never walks only for herself. To share the world with others is her main motivation: to explore new areas and find new paths, people, connections.
"It's the last day of our trekking expedition to the Pyrenees. We are descending to the valley. We see more and more birds in the sky. As we get closer to town, we see about sixty griffon vultures that surround a dead cow. Some of them are close to it, some of them are on it some just wait on the slope for their turn to approach and some are just sailing the sky. When we stopped watching this fascinating film of nature, we continued our route, making a big turn away from them, to not disturb them."
Her latest passion is organizing long-distance trails which are running continuously and never end. She has just finished the Alpe Adria Trail with a group of 20 eager hikers, a trail which starts at Austria's highest mountain Grossglockner (3798 m MSL) to the Italian seaside town Trieste. This is the original direction; however, she has decided to turn it upside down and go from the sea to the mountains. 
Her newest projects are Via Dinarica and Via Alpina, the latter following the path from Trieste to Monaco, following the Alpine arch, and crossing all 8 alpine countries. "This is a project for the next 10 years," she says since she guides her clients slowly across it, and not in one push. Via Dinarica starts in Slovenia and ends in Albania. "One day there will be a line that we have walked from Monaco to Albania".
More about her adventures can be read here.
PROALP'S EXPEDITION WITH NINA
Nina took Proalp's team to the beautiful world of Tržič's mountains on a sunny day in August. Nina uses Proalp's mountaineering shoes, Kanin, on her trekkings since the beginning. For the test trial, we also recently gave her our greyish-green barefoot shoes Contact S1. The mountain world took her as her own long ago, which can be seen from the photographs we made on our little trip.  She proved to us she really belongs in this peaceful, sunny mountain world. This is how Nina described our trip: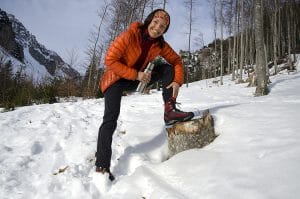 "Yesterday's afternoon passed somewhere above Saint Anna's valley where we tested new hiking and barefoot shoes on different kinds of grounds. Reliability, comfort, and adaptability to versatile grounds, that can be sensed in just a few moments are just  a few adjectives to describe the shoes. Great day, spend in great company. I love being a part of this creative and professional team. I am looking forward to our new projects!"
And what do Proalp's shoes mean to her? Here is how she describes them!
"Proalp shoes give me everything I need in the mountains: reliability and comfort. I don't need to worry if the shoe will be durable enough, if its grip will be firm enough while climbing, how I will cross the scree and if the shoe will be able to carry one-week heavy burden of me and a heavy backpack. I know my shoes very well and I rely on them very much. And this is the most important while going to the mountains: thrust and comfort my shoes provide.

When there is a sunny weekend ahead of me, I put on my favourite Contact S2 barefoot shoes. However, when the forecast shows very wet weather and I know I have more demanding trails ahead (with lots of screes for example), I rather choose mountaineering shoes Kanin, that have waterproof membrane.

I love my barefoot shoes that enable me closer contact with nature – the feeling that I really stand on the ground, on the Earth. When I spend my life so near the sky, it feels so good to be grounded strongly with both feet on the ground. It is a peculiar feeling you are getting to know only if between you and the ground doesn't stand a lump of plastics. That way, you can easily be in touch with yourself and it helps you being grounded: not only with your feet but also with your head. To me barefoot shoes really feel good, because I love feeling the grounds I walk on. They connect me and ground me with the Earth. When I am at the seaside I love being barefoot but at home, on travel and on less demanding tours I prefer wearing Proalp's barefoot shoes."